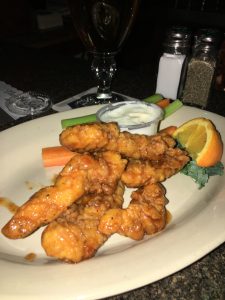 Hello everyone and welcome to my very first review on bufftendies.com!  Today I will be reviewing the honey buffalo tenders from The Old Salt in Hampton, NH.  Located conveniently on the corner of State Route 27 and US Route 1,
The Old Salt is a hot spot any night of the week, where you can find a mix grumpy Hampton locals and young urban socialites.  Trying to find a parking spot here is like trying to sneak into a Pearl Jam concert. It's possible if you try hard enough.  Enough of my terrible jokes though, lets see what the menu says:
Honey Buffalo Tenders
Our chicken tenders tossed in a sweet and spicy sauce and served with chunky bleu cheese dressing, carrot and celery sticks.
Let's find out!
Presentation
The honey buffalo tenders came out in a timely fashion, stacked nicely in the center of the plate.  The standard carrots and celery were placed on the side in case of a buffalo overload, but what really got me was the orange slice placed ever so delicately over some kind of greens.  I'm not sure why it was included, but it was definitely a nice touch.  The dressing container was plastic and came covered.  Great for takeout purposes, but I prefer a more sturdy, reusable ramekin.  The dish came with six tendies, but I jumped the gun and ate one before I could snap a photo.
Score: 4.5/5
Chicken
I dug right in as the plate arrived, and the chicken was cooked perfectly and the temperature was spot on.  Hot,but not overcooked.  The chicken was moist with just the right amount of chewiness.  Now I'd have to hazard a guess and say that these were freshly cooked, not frozen.  The size of the tenders was just right as well.  not a tendon or grizzle to be found!
Score: 5/5
Breading
The breading on these tendies was light, but did a superb job of holding the sauce to the tendy with little detioration.  The breading kept each tendy bite intact, even after being subjected to repeated dunks in a bleu cheese bath.  Hints of black pepper could also be found which added a little more zing to the whole flavor.  These tendies were fried just right, and the coating was just the right consistency.
Score: 5/5
Sauce
Now we get to the part everyone wants to know about.  Upon the intitial viewing, I could see with my eyes that these tendies had been coated expertly.  A Nice even coat on each tendy, with very little puddling on the plate.  The color was lighter than I expected, and reminded me of the orange that was hanging out on the side.  Unfortunately, the sauce was lacking any sort of punch.  Honey buffalo tenders tend to be less spicy than their traditional counterparts, but this sauce barely even caused me to sweat at all.  The honey taste was present, if not overpowering.  Easing off the honey and letting the buffalo sauce shine through could do wonders.
Score 2/5
Dressing
No order of buff tendies is complete without a dressing to slather them into, and this order came with bleu cheese as the default. This made my eyes well up with tears, because if you know me than you know I'm a bleu cheese type of guy.  Anyway, the bleu cheese was probably a Sysco house brand blue cheese purchased in a 4 gallon case.  Not that there's anything wrong with that!  It had a nice dressing to bleu cheese chunk ratio. It didn't do anything to stand out, but it didn't disappoint either.
Score: 3/5
Final Score: 3.5/5
This was a tough rating because of the expertly prepared and cooked tendies, but in the end the sauce left too much to be desired.  I would definitely eat them again but ask to go lighter on the honey and heavier on the buffalo.
Thanks for reading my first review and I hope you enjoyed it.  Please leave suggestions for places to try in the comments and I'll try my best to try them!