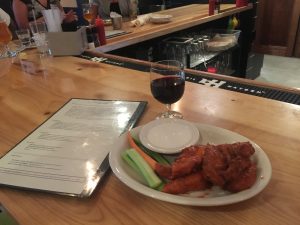 Good afternoon ladies and gentlemen, thanks for joining me on my second adventure into the spiraling dark hole I like to call buff tendies.  The restaurant of choice is The Barley House in North Hampton.  This prime location sports a stunning view of an LL Bean outlet store, as well as close proximity to the Home Depot if you're feeling particularly froggy.
The Barley House has a sophisticated, earthy decor that makes you feel right at home.  A large beer and wine menu can please even the most savvy imbiber.  I decided to settle for a new domestic macro-brew, a rice beer called Bud Light.  But this isn't a Bud Light review, its a tendy review.  Let's get down to the brass tacks and check out the menu:
CHICKEN TENDERS 

– 8
honey mustard and House bbq sauce. BUFFALO with bleu cheese, celery $10
Welp, they really don't beat around the bush with the description.  Maybe the menu writer had the night off, who knows.  Anyway, lets do this.
Presentation
Not too much to say here, looks like a pretty standard serving of tendies.  The classic oval serving dish paired with a generous sized ramekin filled with silky smooth bleu cheese.  The buffalo sauce portion was on the money, evenly coating all the tendies without leaving a swimming pool of sauce (great efficiency).  I find it odd that they decided to garnish with three celery and only one carrot.  For that reason, I'll have to deduct a point.
Score: 4/5
Chicken
Arguably the most important part of the dish, this chicken was a fresh as the Fresh Prince of Bell Air.  My nostrils could detect that the cooking oil used was also particularly fresh as well.  However, this chicken was lacking the crunch that I expect from a top notch set of tendies.  Maybe the buffalo sauce had permeated the coating, because the chicken was not piping hot either.  It happens to the best of us.  Great quality chicken though, didn't see any beaks or anything!
Score: 4/5
Breading
I touched on this above, but the breading was a little soft.  It did do a good job of holding the tendy together, and it didn't buckle under the weight of the copious amounts of bleu cheese that I subjected it to.  Other than that, I don't have much to say about it.  She's not the prettiest girl at the prom, but she'll dance.
Score: 3/5
Sauce
The first thing you see and smell when the platter is delivered.  These tendies had a buffalo sauce that had a deep orange tinge to them, with a viscosity similar to blood.  I could tell right away that these were going to make me sweat.  The burning sensation was familiar, but not overpowering.  My taste buds indicated that there was little to no butter added to dull the sensation.  This is not necessarily a bad thing, as it helped limit the amount of saltiness experienced in the dish.
Score: 3.5/5
Dressing
This is where The Barley House nails it.  A healthy portion of bleu cheese is served with the tendies, and they go hand in hand with them.  A perfect consistency. Not too thick, and not loaded with boulders of bleu cheese crumble that inhibit maximum dipping capabilities.  The flavor was strong, but not pungent.  The bleu cheese complimented the buffalo chicken, adding the cooling effect without drowning out the spiciness.  Sell my old clothes, I'm off to bleu cheese heaven!
Score: 5/5
Final Score: 3.9/5
I was tempted to round up to a 4 because of the how delicious the bleu cheese was, but I've chosen to stick to my guns.  The Barley House puts out a solid batch of buff tendies, no doubt.  Just a smidge longer in the fryer to obtain that crisp and these would be a home run.  Once these were dispatched I moved onto the McBarley, a fantastic burger that lives up to the Barley House name.  But that's for another day and another blogger.
Hopefully my next review wont take me seven months, but if it does you're just gonna have to deal with.  Feel free to leave comments and suggestions for my next tendy review!