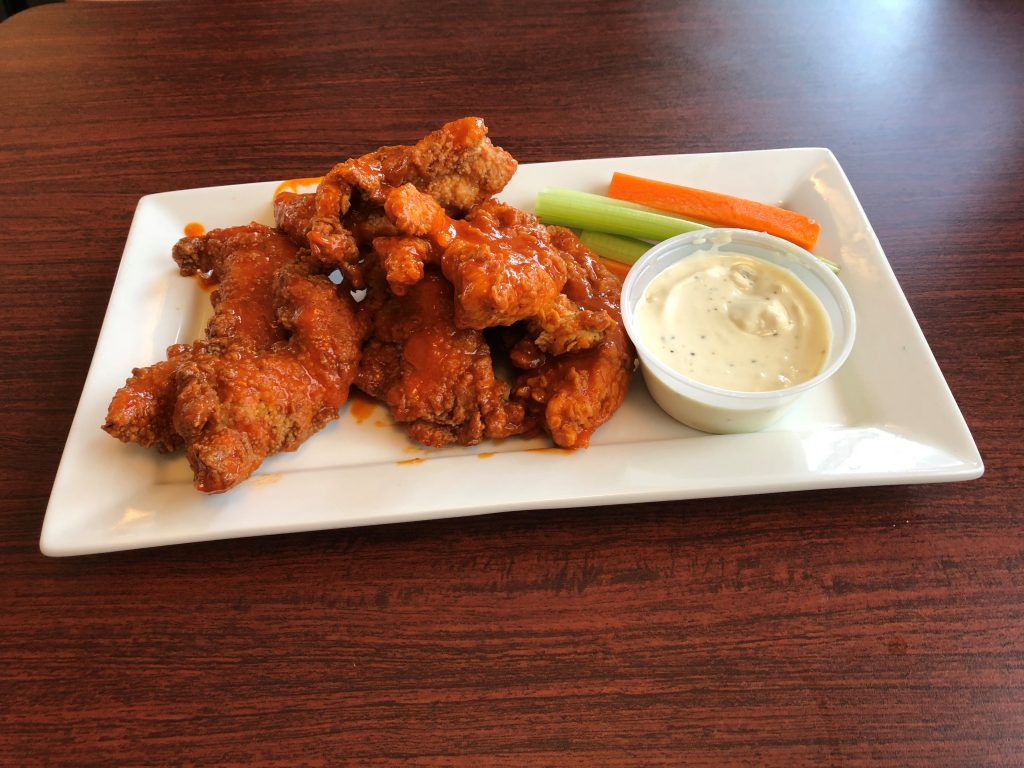 Hey everybody!  I am back from my buffalo tendy sabbatical and I am ready to party.  I had to give my stomach a rest from the full on assault it was receiving.  In reality I'm just lazy.  Anyway, today's review is Dimitriou's Family Restaurant located in lovely Pelham, New Hampshire.
As you've probably figured out, Dimitriou's is a family owned Greek restaurant.  And if there's any kind of food the Greeks are known for, its buffalo tenders.  This is why I decided to venture away from the seacoast and actually have to drive through Massachusetts (shudder) to get to my destination.
Upon arrival, Dimitriou's is a free standing building, sharing a parking lot with a Dunkin Donuts.  Parking is ample, and the building is in good repair.  Good signs if you ask me.  Walk through the door and you're greeted to an open style layout where you seat yourself (at least we did anyway).  It can be a little loud inside, but who doesn't want to hear about Aunt Edna's little son Joey finally trying to use the potty and missing it entirely.
After a bottle of red wine and several macro brews, we were ready to place our appetizer order.  Here's how it reads on the menu:
| | | |
| --- | --- | --- |
| Buffalo Chicken Tenders…………………………………………………………………………………… | | 9.00 |
No messing around here folks.  Take it or leave it.  That's the Greek flair people have come to know and love!  Let us begin…
Presentation Score: 3.5/5
The order arrived on a contemporary style rectangle appetizer plate.  My eyes immediately noticed that the buffalo tenders were not fully bathed in buffalo sauce.  This could either mean laziness by the chef or a buffalo sauce packing a wallop.  In this case I think it was more of the former.  Not a deal breaker by any means.  The bleu cheese was served in disposable container, however.  If there's one thing I love more then buffalo tenders, it's the environment.  I wasn't sure what those green or orange wedges were.  I've never seen a meat or cheese like those before, so I stayed away.
Chicken Score: 5/5
Flavorful.  Moist.  Tender.   Succulent.  I could go on using sexual innuendos masquerading as adjectives but I'll quit while I'm ahead.  This chicken was all that was right in the world.  Fresh tendies with the perfect texture.  No strings, no tendons, no bullshit. A tendy strong enough for a man but gentle enough for the lady.  They nailed it.  Good job fam.
Breading Score: 4/5
Some say the breading is the glue that holds this family together.  I have no idea what that means, but this is a nice, simplistic breading that gets the job done.  Hints of salt and pepper can be found throughout.  Fried to a nice golden brown.  A side effect of the less than 100% sauce coating application means the bread did not buckle under the weight of it's counterpart.  A blessing in disguise perhaps.
Sauce Score: 3/5
Ahh, the American standard.  Frank's Red Hot.  A staple in every patriot's kitchen, and also a great way to tell who's a communist.  Some may think using Frank's is the easy way out, but why mess with something that works?  I can't really go more into this topic, as this has been debated many times by people with far more wisdom.  They played it safe here, and it paid off.
Dressing Score: 4/5
Upon first sight I thought I had been served some kind of poppy seed dressing or worse, Caesar.  I started to tense up and was wondering if I was going to have to start administering Stone Cold Stunners.  Luckily after I sampled it with my pinky I realized my anger had been misplaced.  It was my old pal, bleu cheese.  Creamy and with little chunks, this bleu cheese did what it needed to do.  A very nice complement to the assorted and textures my palate had been receiving.  I doubt that this bleu cheese was homemade, but I doubt this happens outside of Greece.
Final Score: 4.3/5
When I was averaging out the scores, I had come up with a 3.9 but I couldn't let that stand. I was so enthralled with these tendies that I even ordered an extra set to go (much to the chagrin of my fellow diners.  Therefore I have adjusted the score to reflect my pleasure.  I also have to give praise to our waitress (whose name I've since forgot).  She was an absolute doll.
Well there you have it folks, another one is in the books.  I seem to be averaging about 1.2 reviews a year at this rate.  As always, please leave a comment or suggestion and I'll be sure to ignore it!